Fear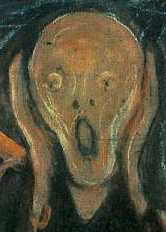 This post is actually one that should follow
The marks of free people
which I wrote a couple of days ago. Fear is a way of controlling the minds of people, is a way of making people do whatever the individuals inducing it want. Fear restricts freedom. Fear has been used and is continuously been used by governments, terrorists and religious leaders to control our behaviors and to increase their power. The government that magnifies the risk of national security threats is as guilty as the terrorist who explodes a car bomb or as guilty as the priest who threatens believers with hell. They all have as goal to limit our actions, to blurr our minds, to make us propagate fear and finally and most importantly, to increase their own power.
What is the recipee to avoid being controlled? The recipee is the same that the one who make us free according to what I said in
The marks of free people
. Independent thought, rational skepticism and rigorous questioning should be part of our modus vivendi. We should not trust our governments. Being well informed is not just turning on the TV at 9 pm and watching the news given by a particular news channel. It is looking for the information in different sources and looking for different opinions. We should not trust our priests, fathers, pastors, imams, etc if they threaten us with hell. They might be worse sinners that we are. We should not let terrorists dominate our minds. I remember when the Shining Path (Peruvian terrorist movement)threatened us by saying that they will bomb our universities if we went to study the days they declared "armed strikes". Guess what: We did not listen to them... we were free.