Understanding the kidney-1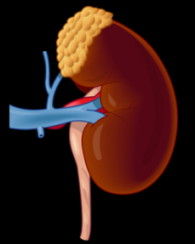 I am currently training to be a nephrologist (kidney specialist). The kidney is probably the most complex organ of the whole body with respect to its functions. My goal of writing something about it here is to show that this organ is much more than a "pee-maker". If I see that people like what I write and become interested, I will post more information, basically answering questions. This and following posts are not intended to give individual medical advise, that is the job of your personal doctor.
Functions of the kidneys
- Participation in the maintenance of a constant extracellular environment for cells to function adequately.
- Hormone production and secretion, mainly to regulate blood pressure.
- Degrades some proteins and synthesizes glucose.
Facts about the kidneys
- Filters 180 liters of blood everyday.
- Produces between 1-4 L of urine everyday
- Senses the amount of hemoglobin we have in the blood and sends signals to stop or increase blood production.
- Receives 20% of all the blood flow of a person in a resting state.
- Consumes 7% of all the oxygen of a person in a resting state.
Post your questions in the comments section to see what my next post regarding this topic should be about. Remember thet I will not give individual medical advise.